Daedalus: Ebonite Eyedropper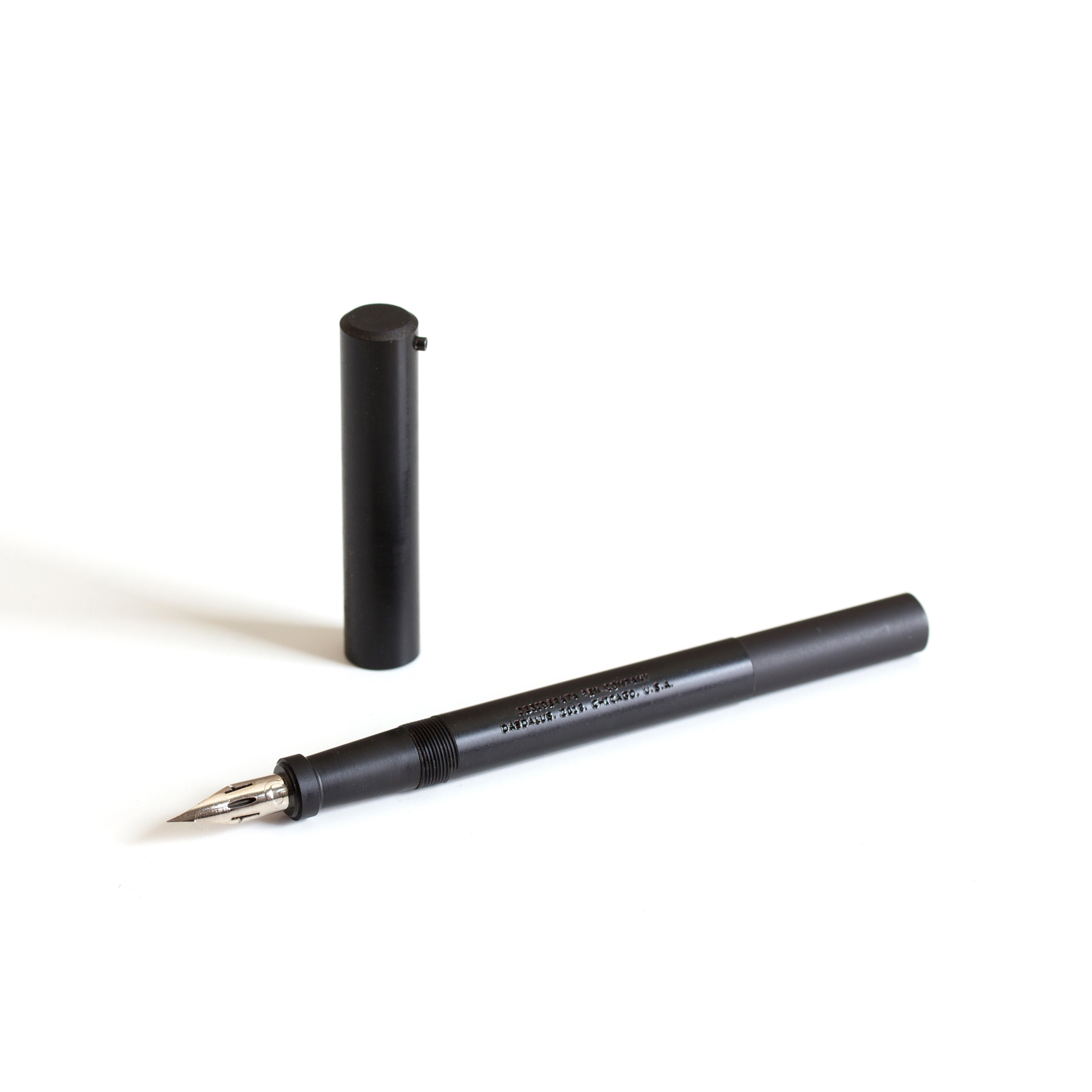 Daedalus: Ebonite Eyedropper
If this is sold out, CLICK HERE, fill out this form, and I'll let you know when I'm done making more.
Since Day One of the Desiderata Pen Company, the Daedalus has been the number one seller. If you need a flex pen for calligraphy, general writing, or some drawing (discussed in the "Purpose" section of the User Manual), all of my pens will suit you, but for some reason, this one has always stolen the show.
Pleasant posting of the cap to the back of the pen, a utilitarian roll stop, sleek lines, and a classic black finish are the hallmarks of this stalwart writing instrument.
This is a solid ebonite eyedropper filling fountain pen, purpose-built for the Zebra G nib with an ebonite feed made to handle high flex writing, and able to take any standard JoWo #6 screw-in nib unit. You have to pick which you want, though.
Sporting a minimalist, "industrial" feel, the Daedalus™ is your prime choice when you need a flex pen that can take a beating, fits the budget and works well.
Eyedropper filling; Silicone grease is necessary to ensure a proper airtight and ink-tight seal between grip section threads and barrel.

With a little fiddling, this pen will also be able to fit Nemosine, Pilot and Goulet nibs with the existing Zebra G nib unit (if you manually remove the Zebra G), but the flow may be very wet. If you want to be able to swap out the Zebra G nib and feed with a JoWo Fine screw-in nib unit or a Pilot extra fine screw in nib unit, you can purchase one of them from the parts page.

Convertors or cartridges will not fit.

n.b. Though cosmetically identical to earlier versions, parts from this pen may not be interchangeable with parts from earlier iterations.

To keep this pen as affordable as possible, some machining marks and cosmetic blemishes may be visible. The photographed example is representative.
A bit about ebonite: The classic hard rubber. What they sometimes make bowling balls from.
Made by the slow vulcanization of natural rubber with sulfur, ebonite (or vulcanite as it was called in the early twentieth century) absorbs hand warmth and radiates it back in such a way that when you hold an ebonite pen, it feels like an extension of your hand. Much more so than with plastics.
Not to be hyperbolic, but working with this material is like being in a lucid nightmare. You have a certain degree of control over the finished product, but in the meantime–everything stinks, your tools never stay sharp, everything is always at the brink of overheating and for the time you're working with it, you live your life covered in dust–and there's nothing you can do about it.
But it's worth it. The "hand-feel" of using an ebonite pen cannot be overstated. About the only material that feels more natural to hold is wood.
Out for now.
Dimensions: (Not including nib length)
Unposted length: 4.625

Posted Length: 5.75"

Barrel weight: 10g

Cap weight: 5g

Grip section minimum diameter: .355

Grip section maximum diameter: .403

Barrel maximum diameter: .44

Cap maximum diameter: .5